Details
An elegant English Country dance to celebrate the completion of the old year and welcome in the new, in a beautifully decorated hall and with marvelous refreshments. Click here for a flyer (but ignore what it says about Modern formal attire). Any kind of dressy attire admired but not required. No pre-registration required this year; just pay at the door ($25 / $15 students / low income). Savory edibles available as we gather from 6 – 6:30 PM, then dancing, a generous break for punch and sweets, then more dancing!
Caller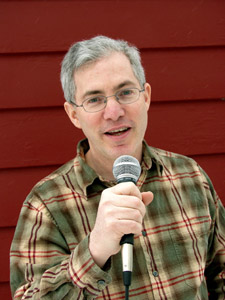 David Smukler
I lead evenings of contras and squares, English country dances, family dances, school programs, and special events such as weddings, festivals, etc. I have also presented workshops on numerous dance related topics. My taste in dances is eclectic, and I tend to present a wide variety of dances when I call. My repertoire includes plenty of New England contras, as well as an assortment of squares, singing calls, mixers, old chestnuts and freshly minted dances. I have a special fondness for English country dances, and my English programs also blend old favorites with new gems. Fortunately, there is no dearth of wonderful dances to draw on!
Band

Tim Ball & Jane Knoeck
Tim Ball (violin), Jane Knoeck (piano)
Fabulous musicians and always in demand, both Tim and Jane play with a number of regional and national bands.  It's a rare treat to have them on stage together!